Scaffolding erection, dismantle is done when works need to perform over 2 metres from ground level to support workers, materials utilised in house construction, repair, maintenance, demolition work at height.
18 Safety points for scaffolding erection
Before scaffolding erection site survey to be performed for any hazards. For example
Any high tension wires nearby before scaffolding erection,
Safe access for equipment operation present or not before scaffolding erection.
Danger zones if any before scaffolding erection.
The following 18 points need to be kept in mind before and during scaffolding erection:
From bottom level to top-level and from internal part to external part work scaffolding erection  should be started.
Safety cordons, Warning signs and other safety measures shall be implemented to ensure safety for the traffic during scaffolding erection.
The minimum clear height of 2.5 metres should be maintained over pedestrian traffic areas for protecting the traffic from unexpected impact.
By keeping a clear distance of 2 m from the scaffold structure, barricades should be provided.
To make sure proper access should be kept for cable tunnels, fire hydrants, fire alarms etc.
Before scaffolding erection make sure Scaffolds of steel should be of tubular and should comply to IS:2750 when used for work at height.
For over headworks proper protection above the work platform scaffold should be done not more than 3m.
For personal movement under the scaffold at the working level, a screen or canopy should be provided with a minimum of 300 mm height projection.
In storm work or high wind, erection should be avoided.
Works on ice or snow-covered platform should be avoided.
To support the load without settlement vertical poles should rest on a strong foundation and soft ground should be well levelled and rammed.
Fixing of nails or fibre ropes, steel bolts of approved size, couplers, joint pins should be fixed properly.
To ensure structural stability and to stop bucking, diagonal bracing should be tied.
For heights, more than 15 metres steel scaffold is preferred instead of a wooden one.
Scaffold height should not be greater than 4 times its minimum base dimensions unless braces or ties, guy ropes are utilised.
Scaffolds more than 10 m height should be secured for stability at first utilising the fixed structure and for every 8 m height should be provided.
Landing platform with standard rails at every 6 m height should be provided.
For scaffold users, safe access should be provided for work at height.
Use of scaffold for work at height after erection
For house construction or any other work at height, Scaffolds should be used utilised only after duly inspected by a certified engineer.
The following scaffolding safety points should be kept in mind while using for work at height:
All workers or employees who utilise scaffolds should be trained.
Should be used only when it is tagged OK.
Prior to the start of all works, Hazard identification and Risk assessment should be done and proper preventive measures should be implemented during these activities.
All users should utilise the following PPE's like a full-body harness with twin lanyard of 1.8 m, snap hook, ISI or CE marked helmet with chin straps, Safety shoes, safety goggles, cotton hand gloves etc.
While climbing user should not carry any material in hand.
To prevent falling of tools, other materials proper protection should be implemented by utilising scaffolding safety nets below the working area, by tying the tools with rope etc.
While climbing a vertical ladder above 6 m height, the user should utilise the vertical fall arrest system. In the absence of this vertical fall arrest system, the user shall ensure that three-point contact is maintained all the time by anchoring lanyard hook one after another.
End frames and cross bracing should not be used for access.
Beyond the working load limit, the scaffold should not be loaded.
Even if handrail,mid-rail is provided, the user shall ensure anchoring harness.
Always user should face the ladder when descending or ascending and should not slide down a ladder.
Before climbing make sure that the shoes are not muddy, greasy, slippery.
Users are not allowed to modify the scaffold position or remove any of its components.
While using electrical tools, machinery user should ensure that scaffold grounding is done.
No heavy or hazard material like gas cylinders, welding machines etc should not be kept on the scaffold until or unless it is designed to take that load.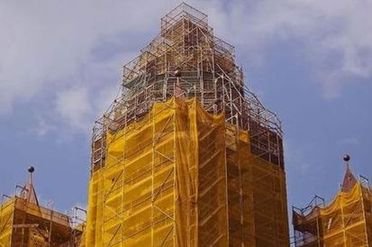 Scaffold Hazards
The following are hazards :
Falling objects
Scaffold collapse
Electrocution
Falls
The following are the possible reasons for hazards:
Inadequately supported scaffold boards
Faulty or unsuitable usage of the construction material.
Usage of wrong or damaged couplers.
The lack of toe boards or guard rails.
Scaffold overloading.
Scaffolding erection on uneven ground.
Slippage due to usage of unsecured ladders.
Improper usage of platform thickness and width.
No proper bracing the scaffold to the structure.
Inspection of scaffold
Proper inspection to be done before the usage of the scaffold. The initial inspection should be done after 7 days and after every damage.
The following are the few scaffolding safety checks during the inspection for work at height:
Check for alignment and level of members is proper or not.
Check for couplers are tightened properly or not.
Check for all planks are placed properly or not.
Check mid-rails, handrails, toe boards are fixed properly or not.
Check for adequate lighting is present or not.
Check for weather the scaffold is overloaded with materials or tools or debris.
Check for safe access is present or not.
Check for safety tag for the scaffold is filled properly or not.
Check for if there are any defects in scaffolds like crack, bends, corrosion etc.
Scaffolding safety in Dismantle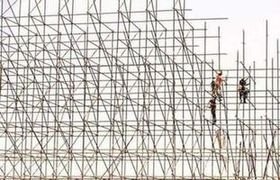 Before dismantling, Hazard identification and risk assessment should be performed.
The following scaffolding safety points should be kept in mind before and during dismantling and for work at height.
Dismantling work should be allowed with sufficient time and to be handled safely.
Before dismantling scaffold should be inspected for stability and strength. The components which endanger the stability of the remaining structure should not be removed.
Materials stacked and all the debris on the scaffold should be eliminated.
Proper barricading should be done at ground level using barricading tapes, warning signages should be displaced for preventing from preventing persons from entering the work area.
In reverse order to erection i.e from top to bottom, dismantling should be performed.
Bracing should be removed first followed by removing all the horizontal members in a single plane.
After reaching the second last level, bracing of 3 m from ground level shall be installed before dismantling horizontal members at the second level.
Only in the presence of experienced or competent persons dismantling work should be performed.
Materials should not be thrown from heights bit should be lowered down using ropes.
After completion of work, all materials should be stocked in dry protected places and proper stacking to be done using trays or boxes, racks at ground level.
The damaged parts would be repaired or replaced, cleaned and treated with paint or preservatives.
Proper lubrication should be done for couplers, other components.
Conclusion:
Scaffolding safety should be considered before, during erection and during, after dismantling for house construction works, other work at height and all the above-mentioned points should be kept in mind while doing the same.
Read Also:
48 quick steps for house construction